THE LOST BATTALION

When the USS Houston (CA-30) was sunk, part of their next task was left undone. the "Lost Battalion" the 131st Texas National Guard Artillery Rgt. was stranded on Java and were captured and imprisoned with the Houston Crew.
The Texas 131st remain close to the Houston Survivors to this day. they shared a brotherhood of POW experience.

THE HISTORY OF THE ASIATIC FLEET
"From the beginning of foreign contact with China, the status of foreigners residing in, or doing business with, China was a puzzle for the Chinese government in Peking as well as the foreign traders attempting to do business. The Chinese government wanted to keep the western barbarians outside of China and did not want to administer their own internal disagreements. Strong foreign commercial and political influence in China between 1841 and 1942 emanated from treaty ports. These were tiny enclaves of foreign influence and government located throughout much of coastal and eastern China.
The Asiatic Station of the U.S. Navy was the overall command of the U.S. Navy in the Far East during the 1880's. Vessels of the Asiatic Squadron, including South China and Yangtze River Patrol, on this station were primarily involved in matters relating to U.S. commerce with China and Japan.
27 April 1898, this squadron, composed of 3 cruisers, 2 gunboats and 1 cutter (Commodore Dewey in flagship Olympia), sailed from Mirs Bay, China, to the Philippines to participate in the Spanish-American War, destroyed the Spanish fleet guarding the Philippines, and effectively took control of Manila Bay.
In 1902, the Asiatic Squadron was upgraded to the Asiatic Fleet.
In 1922, the Asiatic Fleet was charged with defending the Philippines and Guam, and with upholding the Open Door Policy in China.
In 1924-1927, the regularly assigned forces of the Asiatic Fleet were augmented because the political turmoil in the Philippines and China was such as to frequently require the presence of the United States naval vessels to protect American lives and prosperity where outbreaks occurred: Japanese Militarists "China war," Rape of Nanking, and many incidents and "accidents" involving American properties
12 December 1937, Japanese bombed and sank Panay at Nanking in the Yangtze River.
28 February 1941 Asiatic fleet was renamed the U.S. Asiatic Fleet.
In July 1941, American, British Commonwealth, Dutch and Australian (ABDA) diplomatic and military planning determined that the principal military effort of the Associated Powers will be in the Atlantic and European Areas, and operations in other areas will be conducted to facilitate that effort. The U.S. Navy would not reinforce the Asiatic Fleet by the Pacific Fleet and assumed that war with Japan would see destruction of United States and allied air and naval forces in these regions. U.S. Pacific Fleet would defend the Malay Barrier, if the Japanese "made a direct act of war" against ABDA territory.
24 November 1941, Admiral Thomas C. Hart ordered Marines and others from China to the Philippines and Asiatic Fleet units to Philippine and Dutch East Indies ports.
Alerted that hostilities with Japan were close at hand, the fleet quickly prepared for war. When the Japanese attack on Pearl Harbor occurred on 7 Dec. 1941, the Japanese naval and air forces began their attacks on the nearby U.S. Asiatic Fleet.
2 December 1941, Rear Admiral William A. Glassford deactivated the historic Yangtze Patrol and departed for Manila aboard Luzon with Mindanao and Oahu.
Tutuila remained upriver at Chungking and Wake at Shanghai as State Department radio station.
8 December 1941, Rear Admiral William A. Glassford, Commander Task Force 5, hoisted his flag aboard Houston at Ilio. Japan commenced hostilities.
15 January 1942, four old U.S. "4-piper" destroyers (Ford, Paul jones, Parrot, & Pope) attacked and sank Japanese vessels anchored in Balikpapan Bay. This was the first surface action of the Pacific War and the first since 1898.
30 January 1942, U.S. Asiatic Fleet units were organized into U.S. Naval Forces Southwest Pacific under Vice Admiral W.A. Glassford – the U.S. Asiatic Fleet, not formally abolished, ceased to exist.
4 February 1942, Battle of Flores Sea: Houston & Marblehead, severly damaged by bombing.
15 February 1942, Admiral Hart relinquished operational command to Admiral Helfirch RNN. General Wavell reassigned and reassumed his position as Commander-in-Chief India.
17 February 1942, Battle of Badeong Strait: Stewart, Java & Tromp damaged, and Piet Hein lost.
27 February – 5 March 1942, Battle of the Java Sea and Battle of Sunda Strait. ABDA forces, nearly destroyed by superior Japanese forces, dissolved. The United States, in agreement with Allied governments, assumes responsibility fore the strategic defense of entire Pacific Ocean.
The U.S. Asiatic Fleet – recognized by many awards for Valor, Meritorious Service, and achievement – relegated to history, remembered by those who served, and forgotten in contemporary history." ~~~~ taken from the pamphlet "The Asiatic Fleet Memorial Room _ In Honor and Remembrance of All Who Served; provided at the United States Memorial, Washington DC www.navymemorial.org
Numerous ships and their battle escorts were lost in the next few days in the disastrous evacuation of Java. the Navy's first Aircraft Carrier (so old it was used as a seaplane tender) was sunk enroute to Java with already too late fighter planes in crates. The last message from USS Langly (CV-1) was "Mother said there would be days like this". USS Pillsbury (DD-227) and USS Edsall (DD-219) (destroyers) were lost without a trace .. (Our guestbook has helped us to gain closure for a relative of a Pillsbury crew. The last word received by family .. as in the case of the Houston ... was, "Heavy enemy action has resulted in the loss of your son's ship. It is presumed all hands are lost". ) USS Ashville was lost with one survivor who later died as a POW. USS Pecos was lost with only a few survivors. In all 21 ships of the US ASIATIC FLEET were lost by March 4 and hope of victories for the American Navy were slim. At least as many Allied ships were lost along with the Americans. See more about these valiant allies HERE. The story of the Battle of Balikpapan HERE.
March 1 is designated as ASIATIC FLEET REMEMBRANCE DAY ... the day the Flagship of the Asiatic Fleet met her doom with Medal of Honor Recipient, Capt. Albert Rooks in command. He died of wounds before the ship passed into the deep.
You will find much information in this web site. Follow the links. We also link to other relative sites and hope to have even more on this site soon. The videos will help more than we can tell you. If you don't have them, you should.

What about the HOUSTON AVENGERS? They were the 1000 recruits who joined the Navy in a huge ceremony in Downtown Houston at a bond drive following the loss of the City's beloved vessel. They each went on to serve their country in all areas of the US Navy during WWII. they participated in battles yet to come and helped to bring an end to the war some 3 1/2 years later. Some of them have attended annual memorial services for the Houston, much to the delight of the surviving Houston crew. Wouldn't it be a great project to find their service records and record their individual experiences and list the ships they served in?

And what about the ships built with the War Bond Drive that day? USS HOUSTON (CL-81) Light Cruiser . This ship survived battles later in the war. After two torpedo hits, the crew by sheer will-power kept the ship afloat to return to America for repairs . A valliant ship and crew in their own right. Click on the link above to learn more. USS Houston (CL-81) Light Cruiser
USS SAN JACINTO (CVL-30)(Carrier)
They raised so much money in Houston, Texas to build a cruiser to replace their beloved (CA-30) with (CL-81) they had enough left over to build a carrier! This carrier,(CVL-30) became a Battle Veteran , serving as the platform for Ensign George Bush. At the time, Bush was the youngest Naval Aviator in combat. He was shot down long before he ever got elected to anything!

Ships Named for Key Individuals

USS ROOKS (DD-804) Destroyer
Built in time to fight in the war earning several Battle Stars.
The ship was named after Capt. A.H. Rooks

USS RENTZ (FFG-46) Frigate
An Oliver Hazard Perry Class Frigate, still in service. USS Rentz was the platform for a day of interviews with some of the survivors of USS Houston. Chaplain Rentz, Capt. USN, was the Asiatic fleet Chaplain. He died in the water after giving his life vest to a young sailor who did not even know he had been attached to the vest until he realized the Chaplain was gone. (I met the sailor) His family had held a funeral for him in 1942 after news of the ships demise. Survivors were not expected. Yet, in late1945, Walter showed up alive in Mississippi to the amazement of his family and friends. Every year after that, on trips through his hometown, he would leave flowers on his own grave. (Walter was a very humorous man and he told this story with the perfection that only a native Mississippian could.) By the way, Walter's cousin from West Texas, had heard of the Houston story. As a school girl (in the 1930's) she saw the Houston make a historic trip up the Houston Ship Channel to the City of Houston . Later, during the war, she remembered her family telling her she lost a cousin on the Houston. She came to the 1998 memorial service to pay her respects. She had not (as a young girl in Texas) gotten the word that her cousin from Mississippi had survived. This had to be the most joyous memory of the 1998 memorial service. We are most happy this meeting occured. Walter Beeson died seveal months later in 1998.
USS HOUSTON (SSN-713) Attack Submarine
The CL-81 was retired soon after WWII.
When CA-30 was lost in action, and largely because President Roosevelt was deepley attached to the USS Houston, (he made 4 major cruises with her in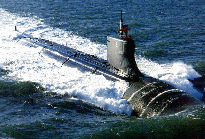 the 1930's) he declared in a national speech that there would be another HOUSTON and another HOUSTON and another until Japan was defeated.
Well, Japan was defeated, and CL-81 carried the tradiiton. Some years later the nuclear submarine USS Houston was launched. It is still in the fleet today.